Services we offer
Services we offer at our Bhagwati Urology Hospital and Dental Clinic
Go to Lithotrisy
Lithotrisy
Lithotrisy by world acclaimed complact XL DireX machine. Fragmentation of kidney and upper ureteric stone, without the need of Anesthesia, hospitalization and surgery.
Go to ENDOUROLOGY
ENDOUROLOGY
Management of urinary stones, prostate, bladder pathology by best in class Endourology equipment.
Go to RENAL TRANSPLANT
RENAL TRANSPLANT
Sterling Hospital at Rajkot, is the only centre conducting Renal transplant, in the region of Saurashtra and Kachchh. The first Live related Kidney transplant was performed at this state of art setup.
Go to Book appointment
Book appointment
Book an online appointment at Dr. Dhiren Buch's Clinic within few clicks.
About us
Brief introduction to Bhagwati Urology Hospital and Dental Clinic
Patient's healthy life is motto
At Jamnagar setup, Bhagwati Urology Hospital and Dental clinic, exclusive Urology work is done - Endourology, Eswl and open surgical Urology procedures.

Pioneer in Renal transplant in Saurashtra, the first Live related Renal transplant was done at Sterling hospital Rajkot. Pioneer in PCNL in Jamnagar and the region of Kachchh. Contact us here or book an online appointment.


Know your doctor
Know your doctors at Bhagwati Urology Hospital and Dental Clinic
M.Ch. in Urology passed from Seth G S Medical college and KEM Hospital, Mumbai. Assistant and Associate Professor at Shri Guru Govind Singh Hospital and Shri M P Shah Medical College , Jamnagar: for 7 years, upto 2007. Consultant with Sterling Group of Hospitals, Head of Urology and renal transplant services since 2011.
Book an online appointment with Dr. Dhiren Buch
Latest news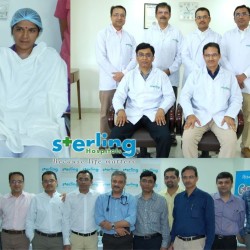 The dream to get the Renal Transplant programme get established, finally saw light of the day… A great team effort… Transplant medicine is all about team work… Synergy between subspecialities… The first Renal transplant performed on 32 years old ESRD patient, conducted successfully… a landmark for this region of Saurashtra.
Previous
Next